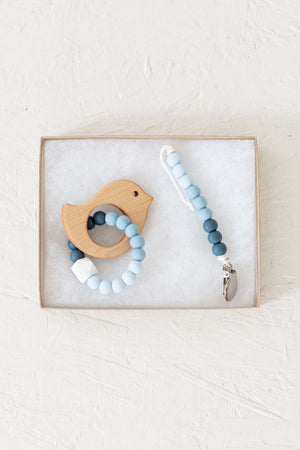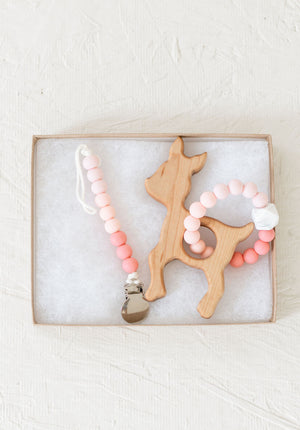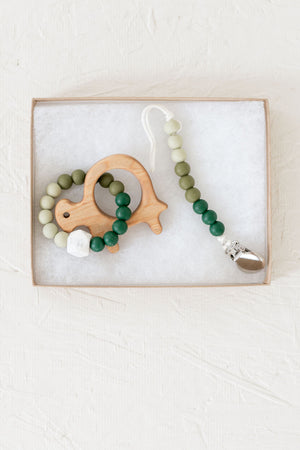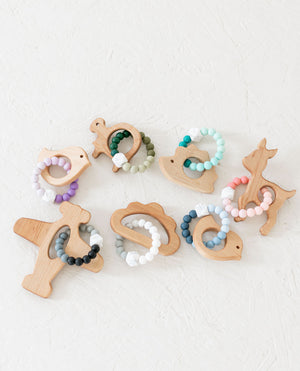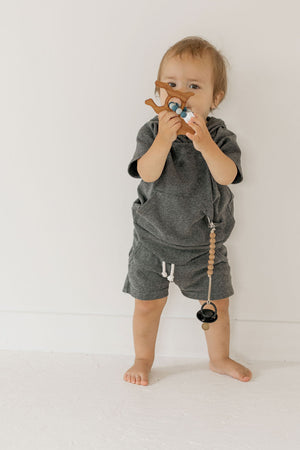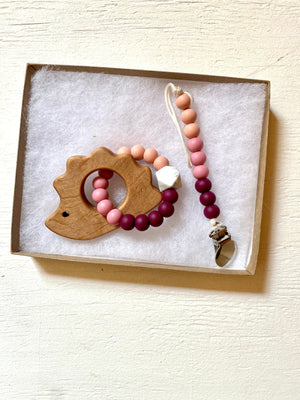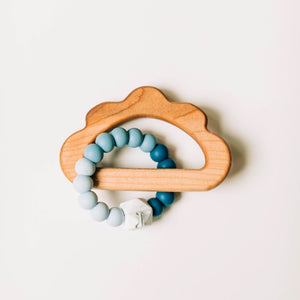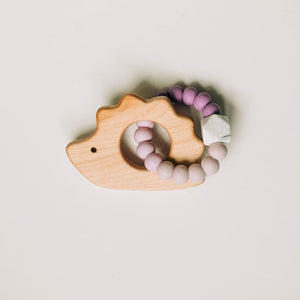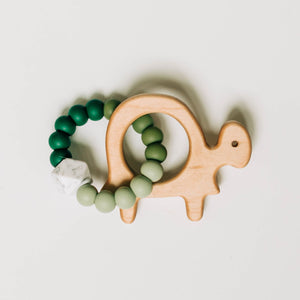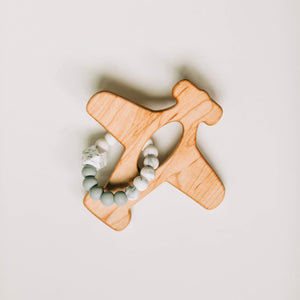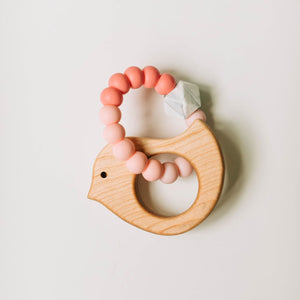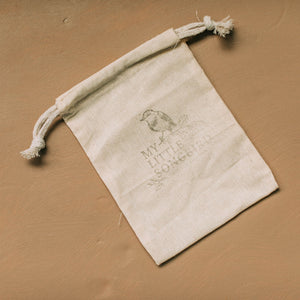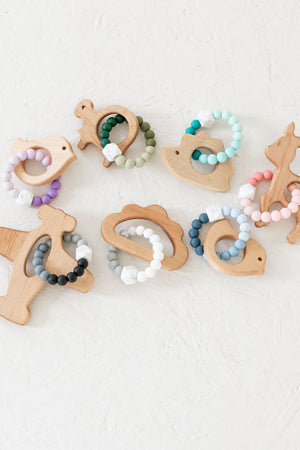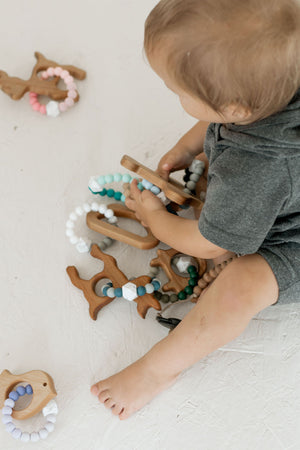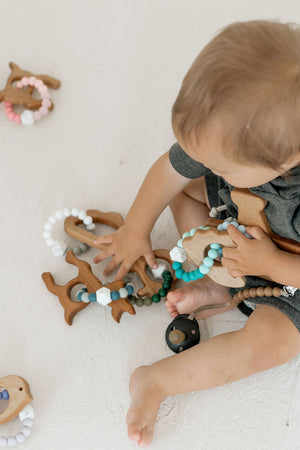 Ombré Gift Set
Our bestselling animal shaped teether toys, now in ombré tones! Available in 6 different animals & shapes including hedgehog, bird, airplane, whale, cloud, fawn & turtle. Choose from 8 different omb
ré 
colors! 
A simple and sweet design, these teether toys are sure to become one of your little ones favorites. Silicone beads are 100% Non Toxic and easy to keep clean. Maple wood is splinter free and one of the most popular types of wood used in baby toys. We sand and seal all of our Maple wood toys with Organic Coconut Oil, making them safe for baby to chew on and play with. 
Each set comes in a gift box.
Color Options:
Blue ombré
Seafoam ombr

é

Green ombr

é

Pink ombré 

Purple ombré

Marble ombré

Gray ombré ( Black & Gray )
~ New~ Wine Ombre'
What makes our teether toys extra special?
The wooden shapes are made by us, vs. being shipped in from other states or countries, which can compromise quality, as well as we would not be able to guarantee the wood type. Our teether toys are also...
We know that not everyone is alike, and some mamas prefer soft neutral colors, while others love having a bold pacifier clip, that stands out. All of our clips come packaged, ready to gift to that new mama friend of yours, or just enjoy opening it for yourself! Who doesn't love a pretty package?
Parakeet Clips measure 8" long and work well for walkers. 
These clips are soft neutral colors, easy to match with outfits, or add a sweet touch to a baby gift for that friend or relative.
Made from BPA Free silicone beads, and attached to Lead Free silver clips which have plastic teeth to prevent tearing baby's clothing, while ensuring a firm grip so  the pacifier doesn't get thrown or lost.
Easy to clean, just wipe off with warm water and soap! Baby need a teether toy? Let them chew on the beads! Perfectly safe and no harmful chemicals to worry about.
Attach your clip to their pacifier, nuk, sippy cup, blanket or favorite stuffed animal.
To learn more about our product quality and safety, click here.
- Eco friendly
- 100% mercury free
- 100% PVC Free
- Odorless
- FDA Approved
- PVC Free
- 100 NON-TOXIC ( unlike many rubber & plastic baby toys)
- BPA Free
- Maple wood is 100% safe for Babies, and they LOVE the feeling of wood on their gums.
-Wood is sanded smooth and sealed with Organic Coconut Oil.
Safety and Care:
The silicone rings are washable. To clean the Maple wood, simply spot clean and let air dry. Reseal wooden shapes as needed with any food grade oil and simply sand rough parts. 
---