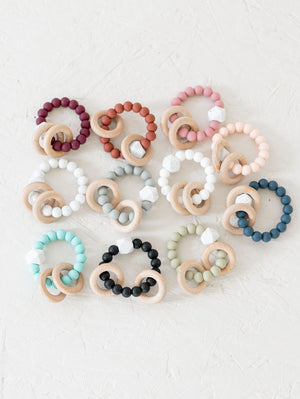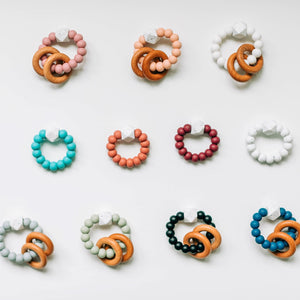 Teethers
Silicone Beaded Rattle Rings
Silicone & Maple Beaded Rattle Ring! These easily double as  a natural teether toy. 
Wooden rattles are optional. 
Choose at checkout which color you want and if you would like just the chew ring, or the rattles attached.
We work hard to create stylish and useful toys for your teething babies, and it is a priority for us to ensure that they are not only chemical free, but 100%  handmade in our own home, so you know exactly what you are getting when you purchase from our shop. 
A simple & sweet design, these rattles are sure to become one of your little ones favorite toys.
Color Options:
Dusty Rose

Peach

White

Turquoise

Brick

Wine

Speckled 

Gray

Sage

Black

Sapphire
What makes our teething toys extra special?
The wooden shapes are made by us, vs. being shipped in from other states or countries, which can compromise quality, as well as we would not be able to guarantee the wood type. Our teether toys are also...
- Eco friendly
- 100% mercury free
- 100% PVC Free
- Odorless
- FDA Approved
- PVC Free
- 100 NON-TOXIC (unlike many rubber & plastic baby toys)
- BPA Free
- Maple wood is 100% safe for babies, and they LOVE the feeling of wood on their gums.
-Wood is sanded smooth and sealed with Organic Coconut Oil.
Safety and Care:
The silicone rings are washable, but if your item has wooden rings attached to it, or wooden maple beads, only wipe clean with a damp cloth using warm water and soap.
DO NOT SUBMERGE IN WATER.
Please be responsible and check over the toy often, to make sure there is no wear and tear on the safety knot. If your baby's toy shows signs of wear, or weakening, discard immediately! And ALWAYS supervise your baby when they are using this toy as it does contain small parts.
---