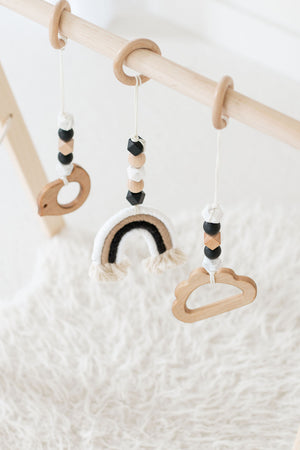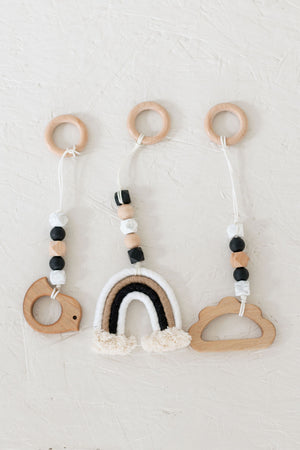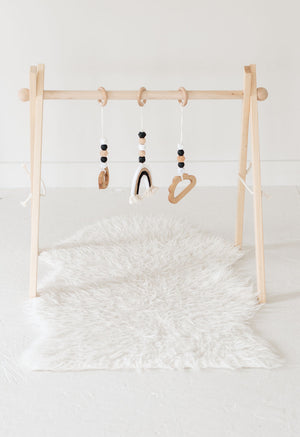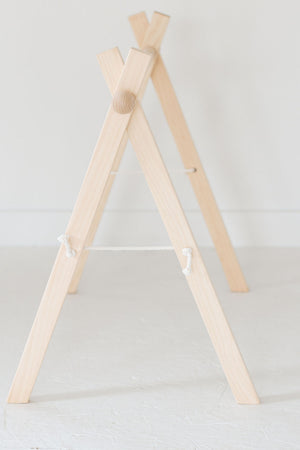 Rainbow Play Gyms
Rainbow Baby Play Gym - Monochrome
Our Rainbow Play Gym is sure to entertain your Little One for hours, while at the same time teaching them fine motor skills, and encouraging them to reach for things!
The Rainbow is handmade from 100% cotton, and is super soft. When Baby outgrows the gym, simply unhook the toys from  the wooden rings, and loop the chew toys on stroller handles, carseat handles, highchairs or anywhere you would like Baby to play.
Please do not allow baby to chew on the rainbow piece. This is for decor only. The rainbow would be a beautiful decor piece in a nursery or similar space, and can be hung using the loop on the string, or the wooden ring.
---->> Quality <<----
- Handmade in Lancaster, Pa by a Husband and Wife Team
- Made in the USA. Always have been, Always will be.
-  Passes USA safety Testing Standards (no small parts, like corks,screws, or pegs which pose as choking hazards if they come loose)
- We have received 5 Star rating on all our products!
- Easily folds up flat, making it simple to pack away without having to worry about loosing small parts.
For additional Product Safety Information and to learn about our design process, please click here! 
---->> Gym Toys <<----
- Gym toys can be used for multiple things, including car-seat handles, and stroller bars giving your baby more hours of fun even after they outgrow the gym!!
- Made with a strong nylon cord, and DOUBLE corded with multiple knots, making them strong enough for baby to pull on, without breaking.
- Wooden shapes are made from Maple wood, Silicone beads ( which have been tested and are BPA Free, and food grade silicone ( like bottle nipples etc.)
---->> Dimensions <<----
- Gym frame measures 24" high, and can be adjusted by pulling the legs closer together. No adjustment of the ropes needed, as the gym legs are tight enough to keep it stable, no matter how you adjust it.
- Rod measures 21" on the inside of the frame.
- Toys hang about 12" down from the bar, but can be raised higher by adding knots to the string. This makes them the perfect height for baby to reach for, and be able to grab, both when laying on the floor, or if in a raised bouncer seat.
---->>Instructions<<----
- Simply slide the dowel rod through the hole in each leg, and place the ball on the bolt, then tighten it until legs are firmly held in place.
- Legs come with the rope already assembled
- Gym takes less than 5 minutes to put together from start to finish, and no tools are required!
- Detailed instructions are included along with a paper detailing safety instructions. 
*These Rainbow Gyms are exclusive to our shop, and any other shops carrying this exact Macrame Rainbow, is a copy. 
We appreciate being made aware when this happens, as this shop helps support our little family, and we have worked hard to create unique products for our customers.
For additional safety information and to learn more about our design process, click here.
---