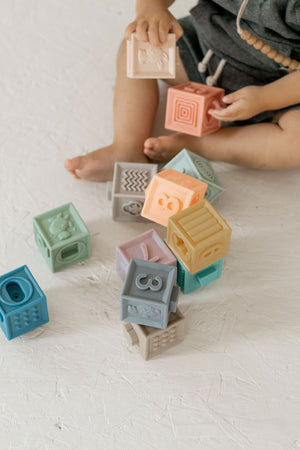 Silicone Toys
1-2-3's Silicone Blocks Set
Our Set of Twelve  1-2-3's Blocks comes with a cute burlap storage bag. Blocks are made from high quality Silicone, and great for toddlers learning to count, recognize shapes and more! They're perfect for babies to play with in the tub as well! 

Silicone blocks are great for:
- Teaching babies hand/eye coordination
- Fine motor skills, as they learn to stack the blocks 
- Encouraging imagination and play


Set Includes
12 blocks with numbers/shapes
Burlap storage bag 
Numbers go from 0-9 and children can combine 1 with 0 to make 10, 1 with 2 to make 12 ect. 
Set also includes a + and = block for Addition practice
---->> Quality <<----
- Made of high quality silicone 
- We have received 5 Star ratings on all of our products!
- Silicone is safe for teething babies and soft and smooth to hold.
- Waterproof for bath time fun!
---