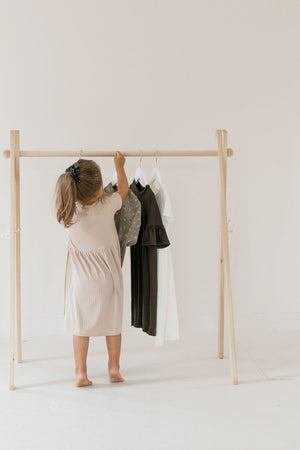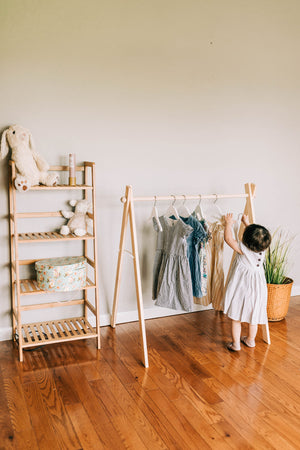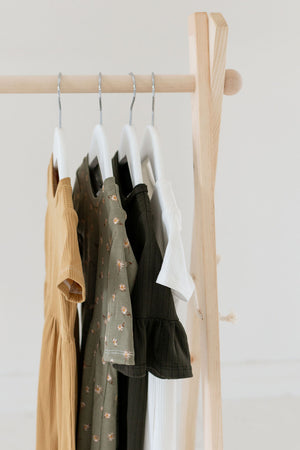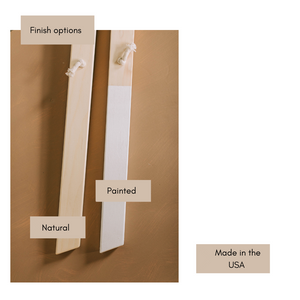 Heirloom Toys
Mini Wooden Clothing Rack
Our Mini clothing rack is made from strong Maple wood, and has a thick dowel rod which will hold up to 10 dresses easily. This works perfect for a minimalist home, to hang your children's clothing on, or as a dress rack for your little princesses dress up clothing.

It is also a beautiful way to display your children's clothing if you love classic linen or vintage clothes!



---->> Details <<----
Measurements----- 
Height-36.5 inches
Width from front to back - About 20 inches. This can be adjusted by pulling legs closer and tightening the knots.
Dowel length is 33 inches on inside ( where clothing hangs) and about 40 inches total.
- Tips can be painted white
- Perfect for a Montessori or Waldorf home/nursery
- Easy for children to reach, and access their clothes
- Works great for teaching children how to put away their own clothing!
- Quick to assemble, and requires no tools, just 5 minutes of your time!
- Has no small parts such as accessible screws, nails, pegs.
- Sturdy A-Frame design
- Arrives with instructions for assembly
- It folds flat and can easily be tucked into a closet should you need to hide it away for any reason
*Dresses pictured are not included
---