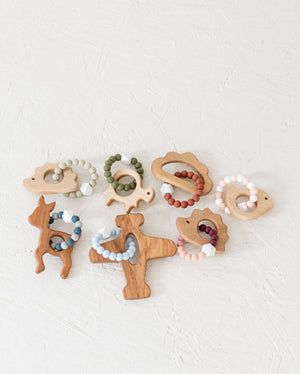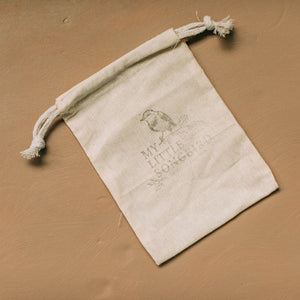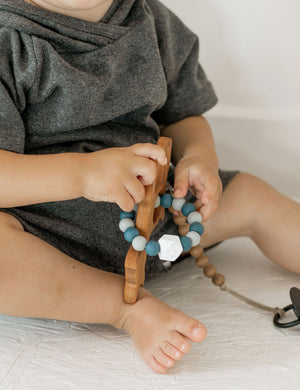 Teethers
Custom Wooden Cloud Teether with Beaded Silicone Ring
Our bestselling animal shaped teether toys! Available in 6 different animals & shapes including hedgehog, bird, airplane, cloud, fawn & turtle. Choose two colors for the silicone beaded teething ring. 
A simple and sweet design, these teether toys are sure to become one of your little ones favorites. Silicone beads are 100% Non Toxic and easy to keep clean. Maple wood is splinter free and one of the most popular types of wood used in baby toys. We sand and seal all of our Maple wood toys with Organic Coconut Oil, making them safe for baby to chew on and play with.
Color Options:
White

Black

Marble

Speckled

Sandstone

Maple Wood

Light gray

Gray

Cranberry

Maroon

Brick

Dusty Rose

Powder Blue

Baby Blue

Sapphire

Seaside

Mint

Light Turquoise

Emerald

Powder Pink

Perfectly Pink

Pink Quartz

Peach

Lilac

Sweet Lilac

Lavender Purple

Sage

Army Green

Forest Green
What makes our teether toys extra special?
The wooden shapes are made by us, vs. being shipped in from other states or countries, which can compromise quality, as well as we would not be able to guarantee the wood type. Our teether toys are also...
- eco friendly
- 100% mercury free
- 100% PVC Free
- odorless
- FDA Approved
- PVC Free
- 100 NON-TOXIC ( unlike many rubber & plastic baby toys)
- BPA Free
- Maple wood is 100% safe for Babies, and they LOVE the feeling of wood on their gums.
-Wood is sanded smooth and sealed with Organic Coconut Oil.
Safety and Care:
The silicone rings are washable. To clean the Maple wood, simply spot clean and let air dry. Reseal wooden shapes as needed with any food grade oil and simply sand rough parts. 
---